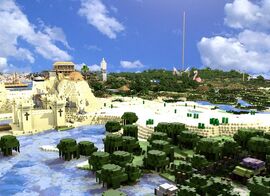 The Season 1 world was the Minecraft map used throughout season 1 of CrewCraft. The world was explored much more than season 2 so the majority of biomes were seen. All Crew members including Special guest BdoubleO and BabyGangar69 have been on this world. Unlike season 2 the crew built small houses close together. Every crew member has a house built usually by them. This server was much more of a 'fun' server and building wasn't the main focus and most buildings were made by Speedy off camera in order to be used in the next epsiode.
In the final episode of Season 1 the crew visited a vacation home built by speedy in order to say goodbye to their server.
There were 3 main areas seen in the season: Spawn, The Flower Forest and The Mesa.
Spawn (And Its Suroundings)
Edit
The spawn was in a plains biome and was the main focus of the first lot of episodes. Around Spawn are desserts, forests, jungles and more. Here are the buildings built in this area.
Spawn room
Sp33dy and Sidearms' starter house
Sp33dy's storage room
Hova tower (1,2,3 and 4)
G18's house
NobodyEpic's house
Kevin Beacon room (Pun on Kevin Bacon)
Deluxe4's house
Deluxe20's house
Shadow's first house - Blown up
Viliager building
SideArms' 'house'
Sp33dy's house - Burned down
Skeleton Spawner
Hova's hookup
OTHER SHOP
-Best Buy
Underground sheep farm
PVP arena
The following structures are also found in this area:
Bridge over to Shadow's house
Bridge over to PVP Arena
CrewCoaster (roller coaster)
Mandingo cage
Boats 1 & 2
Dino coaster
Giraffe
Flamingo
Maze
Uncompleted parkour course
Snow PVP Stage
Various farms