Mystery Building! - CrewCraft Episode 40 (KYR Season 2)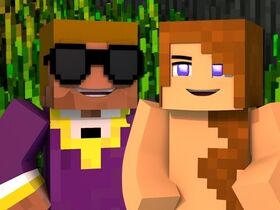 Mystery Building!
was an episode of CrewCraft uploaded to KYR SP33DY's channel on the the 17th October 2014. The episode features some members of the Crew and is the fortieth episode of Season 2. Speedy introduces a new mystery building to CrewCraft whilst SideArms (A South) and Joel get into a rap battle.
After Speedy intros the episode he states how it 'was' Joel's birthday a few minutes ago, he then explains how his internet is acting up and is at a terrible quality. He shows off the pit so far and after many failed attempts at the slime blocks gives up and enderballs to the end of the course so far.
A South (SideArms) then challenges Joel to a rap battle, Joel tells SideArms that he does not mean anything he says in his rap just before destroying him with his tormenting rap lyrics. SideArms does not compose a comeback at first but soon decides to attempt to with no luck at all. The crew then talk about how Side is too nice a person using phrases like 'I love your face' in his rap lyrics. Joel and Jahova discuss times where they were horrible to people such as parents or teachers and SideArms states that the worst thing he has done to a teacher is not do his homework.
After arguments referring to Sidearms' personality and later the avengers, Side decides to say mean stuff to the crew in order to prove them wrong. He is in convinced to use his webcam whilst doing so however he seems to have no idea where it is. Shadow then joins the call but there is some controversy about Shadow changing his number to avoid SideArms, Speedy is convinced he has been calling the same number but Shadow is sure he changed his number.
Speedy has a look at the Stark Tower doorbell whilst SideArms still looks for his webcam however before SideArms has a chance to set it up Speedy ends the episode. Throughout the episode Speedy was building a new build in spawn town without telling anyone what it is, leaving the viewers to guess what the mystery building is.
Player apearences
Edit
Sp33dy (Filmed by)
Jahova
SideArms
G18
NobodyEpic
Shadow (Late entering)
Deluxe 4 (Unheard Unseen)