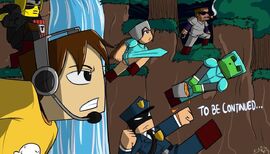 The season began on JahovaWitniss's Channel on the 1st of June 2014 and produced 56 episodes along with a "Lost Episode" before ending on 25th February 2015. Most episodes seem to be 20-30 minutes long and were uploaded every 2-3 days (However this wasn't a steady schedule.) All Crew members including special guest Bdubs appeared in this series and most members played often.
List of episodes
Edit
A Whole New World
Starting Over
Cave Exploration With KYR Sp33DY
The Adventure
Jahova's New House!
Construction on Jahova's New House!
WE NEED MOAR DORITOS!
Finishing the Dorito House!
Deluxe's NEW House & Windows On The Dorito House
NEW Paintings & Crazy Glitch!
New Under Pool Chicken Farm & Kitchen Construction
Jahova Gets a Horse!
Jahova Gets Ambushed By "Friends"
Preperation For The Big Day!
With or Without The Wither What?
The Missing Episode! (Really there is no 23)
Another Missing Episode! (Come on Hova!)
Speedy Blew Up The Server!?
The Crew Awards!!! CrewCraft Season 2 Finale!
The Lost Episode!!!
Livestreams
Edit
Jahova used Twitch and now MLG regularly for CrewCraft as well as CoupleCraft with his wife, he has not uploaded any full episodes to his channel however he does upload CrewCraft After Hours for people who miss important parts of the streams. He also uploaded CoupleCraft to his second channel.
CoupleCraft
Figuring Things Out
Mrs Jahova's House Cave Exploration & More!
Going To The Nether!
We Found A Killer Bunny!!!
Mrs Jahova Finds A Super Creeper!?
Spawner XP Farm!
Nether Fortress!
Community content is available under
CC-BY-SA
unless otherwise noted.