Blake Portles! - CrewCraft Episode 42 (KYR Season 2)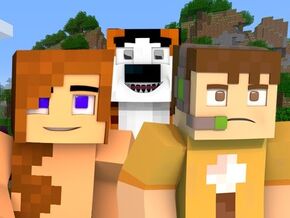 Blake Portles!
 was an episode of CrewCraft uploaded to KYR SP33DY's channel on the the 23rd October 2014. The episode features some members of the Crew and is the forty second episode of Season 2. The No Fap November Building is changed to the new portal room.
After Speedy intros the episode he goes to the No Fap November Building to remove the interior deciding that the no fap November competition is silly however he and SideArms will still compete. The crew travel to G18's to collect some obsidian whilst Speedy says how he doesn't enjoy saying feller any more. To their disappointment G18 presumably hides most of his obsidian in his ender chest. Speedy explains that the new building will be turned in to a giant portal room as portals can be made to a massive size.
After that they travel to Joel's house to look for more obsidian as he likely doesn't check his chests much. They note how is it a rare episode without SideArms before getting to Joel's house and taking all his obsidian. The crew then travel to a ravine Speedy found to mine more obsidian whilst discussing the difference between British and American products such as lays and walkers.
Shadow joins the call and Speedy explains the situation about the portal to him. After deciding they have enough obsidian the crew travel back to town to fix the flooring and build the portal. After sorting out the flooring finally they light the portal and appear at Jahova's portal. Shadow works out where the portal goes just before burning to death. Speedy checks how the portal looks from the outside then returns to the nether to see Shadow build the portal. Everything works out and the episode is wrapped up with Speedy skipping over Hova's story.
Player Appearances
Edit
Sp33dy (Filmed By)
Jahova
NobodyEpic
Shadow (Late entering)
The title is presumably a pun on the American Footballer Blake Bortles